Tools to Turn Your Passion into a Business
There are a number of tools you will need to get started with your blog and to grow your blog more rapidly. Some of these are absolutely essential for getting started, others are more of a nice to have depending on your budget and the time-frame you wish to get your first 1000 subscribers.
Simply click on the arrow to expand the section and find out about the tools.
The MUST-HAVES
[asg-content-box boxcolor="blue" boxtitle="1. Hosting Service and Domain Name" boldtitle="true" boxexpand="true" showcontent="false"]
The first thing that you will need to do to create your blog is to setup a hosting service.
A hosting service is simply a computer in the world where your blog will be installed. Note that this is NOT your own computer, but a computer at a hosting provider that has incredible power and capacity to ensure your blog is always online and is fast to load.
There are hundreds of hosting providers you can choose from, yet from my experience in dealing with a number of them, researching extensively and speaking with bloggers around the world, Bluehost is undoubtedly the number one hosting provider to get started.
Here are 7 reasons why Bluehost is the best hosting provider to get you started:
Reason #1: 24/7 Support
Bluehost has a fantastic support team that is available 24/7 through telephone, email and chat. I have personally used Bluehost's support on a number of occasions and have found them to be very timely, professional and helpful.
Reason #2: Reliability
Bluehost boasts a 99.9% uptime rate which is as good as it gets. This basically means that your website is continually going to be 'live' on the web and has a minimal risk of not ever being online.
Reason #3: Ease of Use
What I love about Bluehost is that it's just so simple to use. With no technical or geeky knowledge you'll be able to work your way around flawlessly.
Reason #4: Affordability
Bluehost offers incredible value and is priced from just $4.95 to $6.95 per month depending on the package you select (I haven't found any provider that is cheaper than this!). Even better, Bluehost has given me a special link to provide you which entitles you to get started for just $3.95 per month
Reason #5: WordPress
I only just found this out recently, but WordPress itself actually recommends only 3 hosting service providers. And you guessed it… Bluehost is number one! In fact, Bluehost hosts more WordPress blogs than any other provider out there.
Reason #6: No Limits
Bluehost doesn't limit you on your usage. That is, you have unlimited disk space and bandwidth and you can also create unlimited domains and email accounts.
Reason #7: Values
Bluehost is just a reputable, good, honest company. The company prohibits pornography, nudity, and other adult content. It strictly enforces this standard and deletes sites that violate it. You may be surprised to know that most hosting services allow pornography on their servers. Personally, I don't want my blog sitting on the same server as a pornographer!
Note: I am an affiliate of Bluehost which means that if you decide to use my link to purchase a hosting plan I will get a small commission from Bluehost (at no extra cost to you). I would be honoured and grateful if you do so as it supports me in creating content for you. This didn't influence my recommendation (all hosting services offer something similar). I personally use Bluehost for all of my sites (including this one) and my experience has been fantastic.
[/asg-content-box]
[asg-content-box boxcolor="blue" boxtitle="2. Email Service Provider" boldtitle="true" boxexpand="true" showcontent="false"]
You're here to get your first 1000 subscribers. The best kind of subscribers are email subscribers. By collecting emails you can reach out and get into one of the most intimate and personal spaces that a person has… their email inbox! Unlike social media where updates get lost in the noise, you can be much more certain that someone will see that you have sent them an email and it makes it much more likely for you to be able to communicate with them.
An email service provider allows you to do just that – collect peoples email addresses and communicate with them.
Again, there are multiple different email service providers that you can use, however, from my experience in using a number of them, AWeber continues to stand above and beyond the rest. To this day I still use AWeber for all of my email marketing.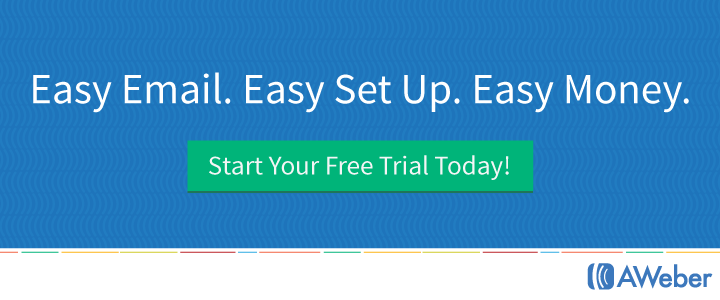 Here are 10 reasons why AWeber is the best email service provider to get you started:
Reason #1: Easy to Use
After signing up, it will literally take you about 5 minutes to get your first email opt-in form on to your website. It's very intuitive, easy to navigate and easy to install onto your website.
Reason #2: Great Support
AWeber has great support. It's been tried and tested by myself and hundreds of thousands of others and there is a reason we love them. They are fast and get the job done!
Reason #3: A/B Split Testing
Something you won't be thinking of immediately, but that you will absolutely love in the future is the ability to do A/B testing. This allows you to test 2 or more different headlines or emails before sending the final one to your whole list. This is hugely important if you want more people to open and read your emails, and ultimately engage with the content, including making sales.
Reason #4: Better Deliverability
Some email service providers have horrible deliverability. This means that not everyone on the email list actually receives the email you send. Fortunately, AWeber has one of the highest (if not the highest) deliverability rates available. This is because AWeber is considered a genuine and trusted email service provider and so web-hosting providers allow emails from AWeber to pass through.
Reason #5: Unlimited Email Lists
Email lists allow you to segment your subscribers. For example, I have one account with AWeber, however I have lists for The Start of Happiness, Gradrecruit, the Launch Your Life Academy, this course and many other lists. The last thing you want to have to do is pay for a new account each time you want to create a new list. AWeber removes this frustration and makes it easy for you.
Reason #6: Unlimited Emails
Some email service providers restrict the number of emails you can send per month. AWeber allows you to send unlimited emails.
Reason #7: Easy Automation (Email Auto-Responder)
You don't have to upgrade to use any fancy features with AWeber. For the standard price you get access to all features including the ability to have an email auto-responder. I consider this absolutely essential if you're looking to build a successful blog with an engaged audience. This allows you to automatically send emails to your new subscribers once they sign-up. For example, you can set up an email to go out once a week for a whole year to subscribers without you even lifting a finger.
Reason #8: Integration
Because AWeber is one of the biggest and most trusted email service providers available, it is always one of the first to be integrated with all new software, apps and other applications. Considering the future growth of your blog, this is essential.
Reason #9: Analytics
The analytics provided inside your AWeber account are intuitive and easy to navigate and understand. I would recommend setting yourself some goals when it comes to your emails, such as increasing open rates and click-throughs. Your AWeber analyitcs makes this easy for you.
Reason #10: Price
Because AWeber is one of the largest email service providers on the planet, it has much greater scalability and therefore offers one of the best value-for-money options available.
Click here to start a free 30-day trial with AWeber
[/asg-content-box]
[asg-content-box boxcolor="blue" boxtitle="3. Design and Theme For Your Blog" boldtitle="true" boxexpand="true" showcontent="false"]
In module 3 we discuss the importance of having a good design to attract and keep people engaged with your content.
Choosing the right theme is super-important as your theme will dictate a lot of the functionality that you can have on your blog (unless you hire a professional designer to do specific coding for you).
My recommendation is to use the Genesis Framework and a theme from Studiopress.
When the Founder of WordPress recommends a particular framework and theme to use, you really need to listen. And Matt Mullenwegg, the Founder of WordPress has done exactly that. He says "child themes and a framework are the only way you should build your WordPress site and Genesis has great support for child themes and other WordPress functionality."
If you take notice, you'll realise that many of the top bloggers use the Genesis framework and a child theme from Studiopress.
If you're unsure what a "framework" is, it is simply something that you overlay onto your WordPress before installing the theme. The Genesis framework (also called a "parent theme") improves functionality, speed and SEO of your site… all things that you definitely want! It's a great and simple way of getting a competitive advantage among the millions of blogs on the internet. You can then add a "child theme" which has the right design for you.
Click here to get the Genesis Framework and a Theme of your choosing.
Here are 10 reasons why the Genesis Framework and a Studiopress theme is the best design and theme option to get you started:
Reason #1: Better SEO
The Genesis framework has state-of-the-art code and smart design architecture which means search engines can see your content more effectively and will increase page load speed and overall SEO.
Reason #2: Great Looking Design and Responsive Themes
Genesis offers an array of beautiful themes for your content that are HTML5-compatible and mobile-responsive. In this day and age you NEED a mobile-responsive theme.
Reason #3: Unlimited & Instant Updates
When you sign up you don't have to pay for any upgrades or to use the theme on multiple websites. You get unlimited support, unlimited updates and unlimited website usage without paying anything extra.
Reason #4: Airtight Security
Features don't mean a thing if your site's not secure. The last thing you want is to be hacked or to lose your content or for it to be misused. Genesis offers WordPress security best practice and is backed by the Founders of WordPress themselves.
Reason #5: Easy Customisation and Fast
Customising your site is intuitive. You don't need to play around with any coding (unless you want to). Straight out of the box the themes are great and you can easily customise all the main features that you would want to customise to ensure you get the look and feel that you're after.
Reason #6: Widgets and Layout Options
The Genesis team has developed custom widgets you can use on any area of your site, and you can even choose to mix-and-match your layout. Again, this makes customising the look and feel of your blog extremely easy.
Reason #7: Developers You Can Trust
This one is BIG! If you want a custom design, Genesis has a list of talented, reliable designers who will knock one out of the park for you. But not only that, the Genesis framework has a huge community of developers that continue to support the product and develop themes. This means that you can be guaranteed that the product is going to be around for a long, long time with 100% support and free updates… so you're pretty much set for as long as you are running your blog.
Click here to get the Genesis Framework and a Theme of your choosing.
[/asg-content-box]
The HIGHLY RECOMMENDED: List-Building STEROIDS
[asg-content-box boxcolor="blue" boxtitle="4. LeadPages" boldtitle="true" boxexpand="true" showcontent="false"]
[/asg-content-box]
[asg-content-box boxcolor="blue" boxtitle="5. Optin Monster" boldtitle="true" boxexpand="true" showcontent="false"]
[/asg-content-box]
Other Recommended Tools
[asg-content-box boxcolor="blue" boxtitle="6. Charging for Products and Services" boldtitle="true" boxexpand="true" showcontent="false"]
Turn turn your passion to profit you will need to charge for the products that you create and deliver. These resources will enable you to start charging for your services from day 1.
[/asg-content-box]
[asg-content-box boxcolor="blue" boxtitle="7. Social Media and Online Marketing Tools" boldtitle="true" boxexpand="true" showcontent="false"]
[/asg-content-box]
[asg-content-box boxcolor="blue" boxtitle="8. Outsourcing to Help You Run Your Business With Less Time" boldtitle="true" boxexpand="true" showcontent="false"]
[/asg-content-box]
[asg-content-box boxcolor="blue" boxtitle="9. Improve Your Productivity" boldtitle="true" boxexpand="true" showcontent="false"]
[/asg-content-box]